Why Collaborate with Us
Why Collaborate with InfraAsia
Infrastructure Asia (InfraAsia) harnesses the collective strengths of Singapore's ecosystem and development experience to support Asia's growth. Since the office's inception in 2018, we have built a network of more than 600 partners and engaged over 70 regional government counterparts. We match-make organisations that are domain experts in their respective fields with regional governments, firms and multilateral development banks. At the same time, we bring various industry stakeholders across the value chain together to catalyse project development, financing and execution opportunities to meet the region's growing infrastructure needs.
Regional counterparts may tap the best solutions from our partners in the Singapore ecosystem, comprises of Singapore companies or international companies based in Singapore. We hope that through our efforts, our partners could benefit.
How InfraAsia catalyses Asia's infrastructure growth​​​​​​
InfraAsia works closely with the Singapore Government to unlock regional opportunities
As a government facilitation office set up by Enterprise Singapore and the Monetary Authority of Singapore, we also work closely with Singapore Government agencies to share with the region our development experience and, international best practices, and together, unlock the region's infrastructure potential to support Asia's economic and social growth.
Singapore's robust financial and professional services sector, together with our Singapore-based enterprises, makes Singapore an ideal infrastructure hub in Asia.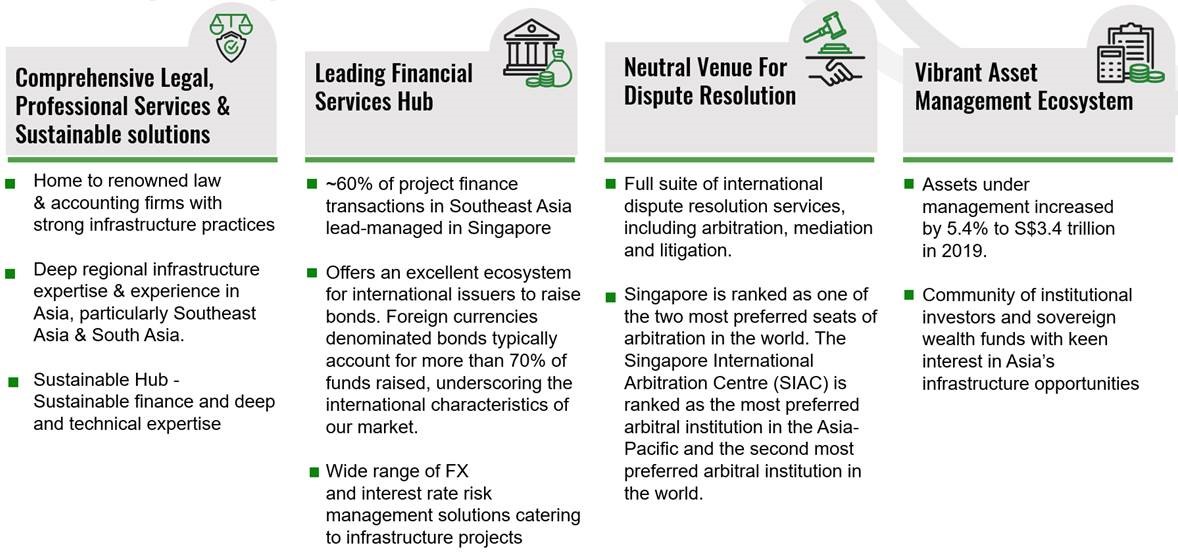 How to Collaborate
InfraAsia would be happy to connect with Singapore's ecosystem, to support efforts in contributing to infrastructure opportunities in Asia.​ Connect via the
InfraAsia Project Portal
or contact us
here
.
---
InfraAsia looks forward to working with the infrastructure ecosystem players across the value chain.
Collaboration Areas
InfraAsia is happy to be linked up with you to share about our work and how we can connect them to more infrastructure opportunities in Asia. There are multiple ways to partner InfraAsia:
Introduce and facilitate technical discussion with Singapore ecosystem players to generate ideas on how your project can be structured and implemented efficiently.
Investing in infrastructure through partnering Singapore-based players who have rich experience in the region.
Technologies, Solution, Innovative and blended financing approaches to enable more bankable projects